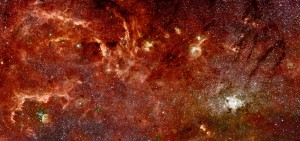 Credit: NASA, ESA, and Q.D. Wang (University of Massachusetts, Amherst)


complex structures
of ionized gas
reveals the hidden mystery
of what it means to be
mass.
complex features
of a particle harassed
is desperate to rebel against
the disorganized
morass.
complex whispers
about knowns that are surpassed
is the truth in understanding
in how standard model
contrasts.

NICMOS >>